Learn to Make Your Own Pusheen Shaker Cookies with this Recipe from the Pusheen Cookbook!
August 16, 2021
If you love to bake and you're a big fan of Pusheen, then you'll definitely enjoy the full menu of treats available in Let's Bake: A Pusheen Cookbook! With over 40 fun & delicious recipes for both skilled and new chefs alike, this cookbook is the perfect addition to any Pusheen fan's kitchen.
We're sharing an exclusive recipe straight from Let's Bake! to give you a taste and inspire you to bake to your heart's content with the full cookbook. Create your very own batch of Pusheen Shaker Cookies— a scrumptious treat containing a colorful surprise!
Be sure to grab your very own copy of Let's Bake: A Pusheen Cookbook to find even more Pusheen inspired recipes!
&nbsp
Pusheen Shaker Cookies
(makes 9 shaker cookies)
Ingredients
Vanilla Butter Cookie
½ cup or 1 stick unsalted butter (115g)
½ cup castor sugar (100g)
1 egg (2.3oz or 65g)
2 cups all-purpose flour (240g)
¼ cup corn starch (30g)
1/3 tsp salt (2g)
½ tsp vanilla extract (2.5g)
Candy Window Pane
1/5 cup hard clear candies (choose your desired flavour)
Decorations
½ cup dark compound chocolate (75g) or royal icing (see Butter cookies)
&nbsp
1. Add hard clear candies to a ziplock bag. Choose any brand or flavor of hard candies that you enjoy. Crush them into fine powder using a mallet or metal rod.
2. Using an electric mixer, cream butter and sugar till pale and fluffy. Scrape down the bowl, and add the egg. Continue beating till the egg is well incorporated and the mixture lightens in colour.
3. On low speed, mix in sifted flour, cornstarch and salt.
4. Add in vanilla extract and mix well.
&nbsp
5. Form the dough into a disc, wrap in cling wrap and chill for about an hour.
6. Roll the dough to ¼-inch thick.
&nbsp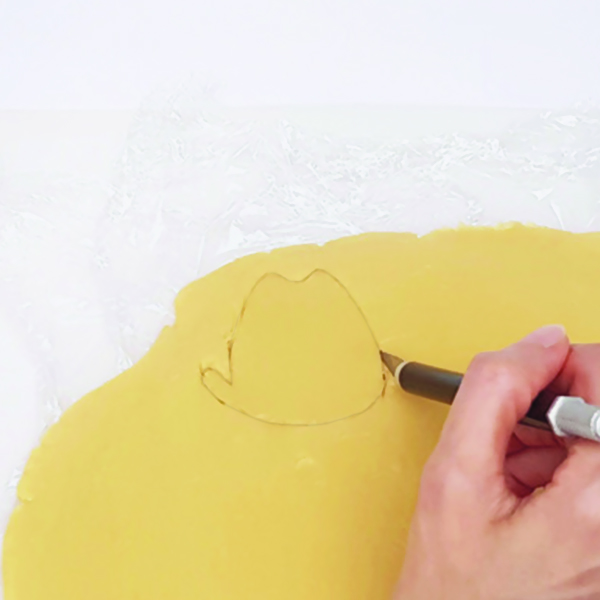 7. Cut out your desired Pusheen shape with a sharp knife using DIY template (made by tracing Pusheen shape onto a piece of mousse or food safe plastic).
8. Preheat oven to 338oF (170oC).
9. Place the cookies onto a baking tray lined with baking sheet or silpat mat.
&nbsp
10. Punch out a hole in the belly of the Pusheen using a round cutter smaller than the Pusheen body (at least ¼ inches smaller on all sides).
&nbsp
11. Add in crushed candies powder in the inside of the cookies. Distribute evenly. Crushed candies must be sufficiently thick (around ¼-inch thick).
12. Bake for 12-13 minutes. You can use a pin to pop any air bubbles in the candy window when the cookies are right out of the oven.
13. Let the cookies cool completely before lifting off the baking sheet to ensure that the candy has fully set.
&nbsp
14. To assemble the shaker cookie, place sprinkles inside the window pane of one cookie. Pipe a ring of chocolate around the window pane, stick on another cookie.
&nbsp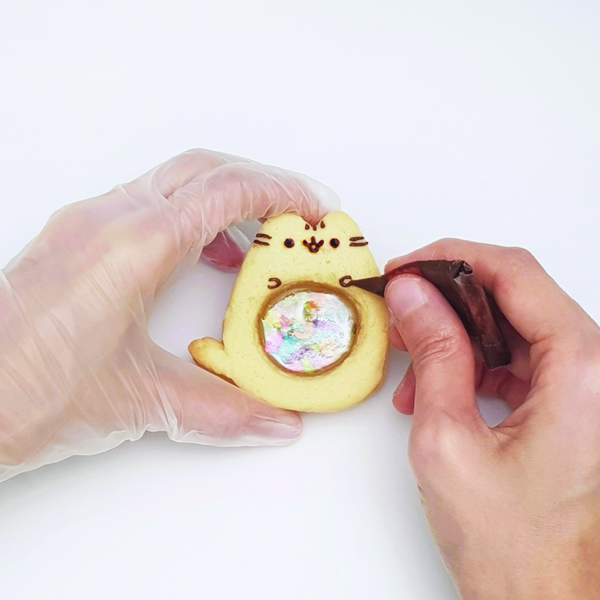 15. Pipe on the details with melted chocolate or royal icing.
&nbsp